16th Mar
Appointment System Changes
Due to the changes within the GP Contract that the government have imposed on GP practices as of the 1st April 2023, we have had to review our current system for how our patients book appointments with a GP or other healthcare professional.
As of 1st April, we are required to offer you an assessment of need, or signpost you to an appropriate service at first contact with us. This means that our current system, whereby GP appointments are filled on a 'first come, first served' basis and when there are no more appointments left patients are asked to call back, has to be changed to fit with the government's new GP contract stipulations.
As a practice we have discussed this within our teams and feel that the best way for us to assess your needs is that any request for a GP appointment shall be via an electronic eConsult. This means that all eConsults received can be sent directly to a GP who will assess the details provided by you (or your representative) and signpost you to the appropriate healthcare professional and appointment slot. By using this method to book GP\Healthcare professional appointments it means that we can equitably offer all our patients the same service and improve on appointment waiting times.
For those patients who are unable to access the internet, or do not have a smart mobile telephone our reception staff will be happy to fill in the eConsult form, either via the telephone or in person.
For patients who are contacted by the surgery to book a Long Term Condition appointment, an NHS Healthcheck, blood test or any other invited appointment, they will be able to telephone and book directly into the requested appointment type.
We know that this is a big change, both for you, our patients and our staff, but if we all work together we are sure that by changing to this method we will be able to offer you all a better service and a shorter waiting time for appointments.
Thank you
The Atrium Health Centre Partners
8th Dec 2022
Strep A (Scarlet fever) Infection Information
Click here to watch a YouTube video explaining what Strep A is, how it might affect your child and what the treatments might be
Healthier Together - link to a website containing lots of useful information
UK Health Security Agency - the top 5 things you can do to help protect your little ones under age five and reduce the risk of infections for your family this season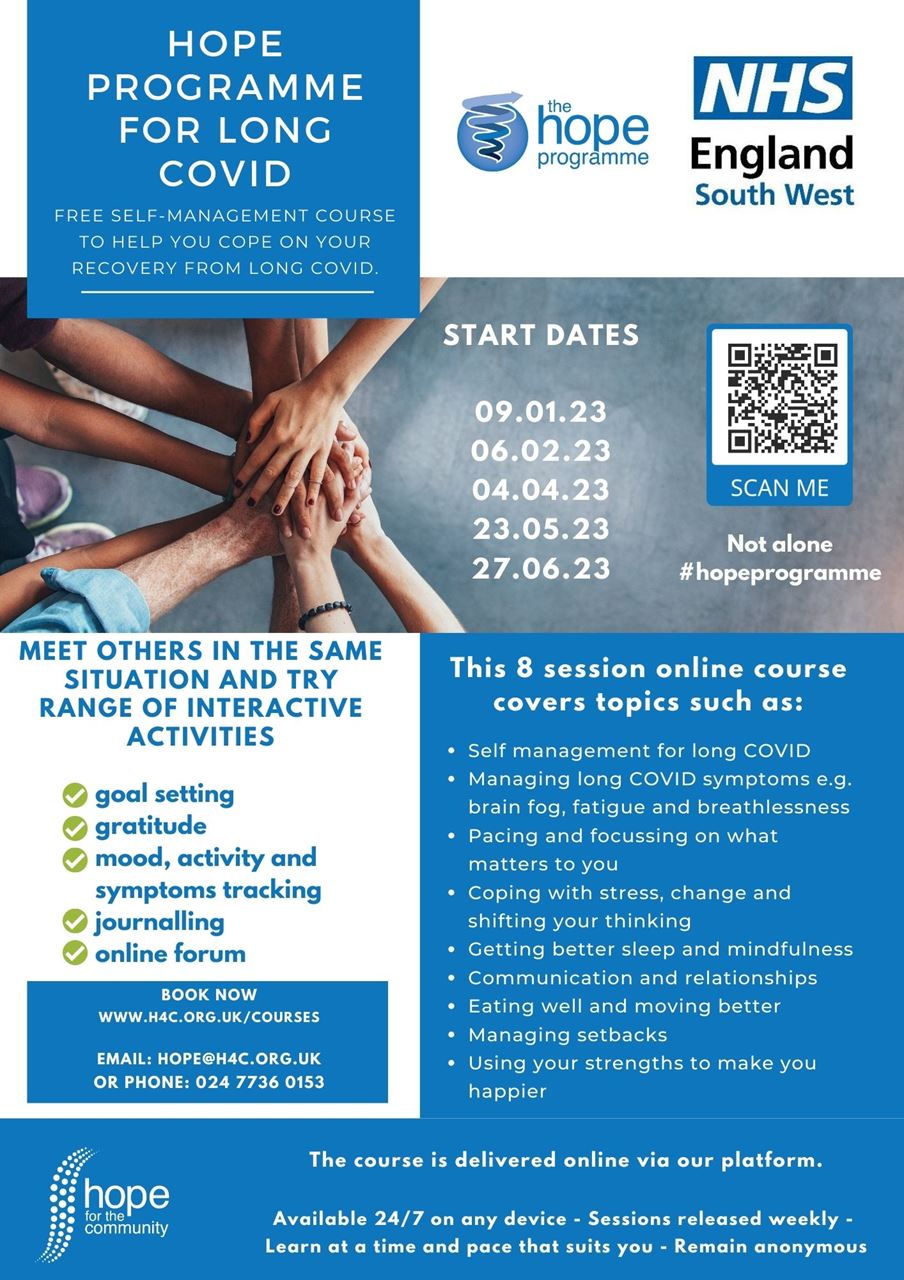 6th Dec 2022
Hope Programme for Long Covid
This is a self-management course available to the South-West population who may need support through the recovery of long Covid. It is delivered digitally over the course of 8 weeks and open to all affected. You do not need to have been referred to a post Covid clinic in order to participate.
The course content is available for 4 weeks after it is published so it can be completed at a time convenient to each participant.
Click here to view the poster in a larger format.
8th Nov 2022
Winter Pressures
We'd like to ask for your help
As a valued patient, we wanted to share our current position and ask for your understanding as we head into winter.
The NHS is struggling to cope with demand throughout the UK; we're seeing more patients than ever before and often with fewer staff. We're also unable to recruit and retain into certain positions due to workload pressures and increasing patient demands. Ongoing and increasing verbal and physical abuse from patients is driving staff to leave primary care completely.
It's been widely reported in the media that access to healthcare services is difficult. Sadly, it is likely that this will be increasingly challenging during the winter months. We just want to explain our position to you and reassure you that we're doing all we can to support our patients.
The Atrium Health Centre promises that our clinical and administrative teams:
Will continue to support your needs as promptly and safely as we can while providing the highest-quality care
Understand that many of our patients are now suffering with more healthcare-related problems and have had these longer due to the NHS backlog in secondary care and community settings
Will promote efficiency and try to recruit where there are any staffing gaps
Will play their part in ensuring they're here for you and the community
However, we also ask that you please help us by showing our staff respect.
Recent statistics from the Institute of General Practice Managers (IGPM) show that there has been a huge surge in primary care staff receiving abuse and we need to highlight our concerns to you. Please note:
78% of staff have reported that they have received either threatening behaviour or racist or sexist abuse from patients
83% of all GP practices have needed to call the police because of a patient's unwarranted behaviour; in some extreme cases, staff have been hospitalised
We're heading into the busiest time of the year and we're all here to ensure that our patients are the priority.
Thank you for working with us to create a safe, respectful healthcare environment.
Yours faithfully
The Partners & Staff
30th Aug 2022
Flu Vaccinations
Patients who are...
Over the age of 65
Aged 18-65 and in a clinical risk group
A carer
A healthcare worker
...can book into one of our flu vaccination clinics at both the Atrium and Crossways surgeries. Please call reception after 10:30am to make your appointment.
We are offering weekday, Saturday and evening clinics.
If you are unsure if you fit into these groups, please click here for further information or speak to one of our reception staff who will check your medical record.